Aubamar Suites & Spa
LIVE THE DESIGN
At Aubamar Suites & Spa you will discover spaces with a great personality, thanks to a brilliant mix of styles: the elegance of the colonial style, the warmth of the tropical style and the freshness of the Mediterranean.
DISCOVER AUBAMAR
It's time to daydream
3 outdoor swimming pools
3 rooms for events
Availability of electric vehicles
1 heated indoor pool
Indoor car park with electric charging points
More than 400m2 of wellness area
1800 m2 of Mediterranean gardens
SPA included for guests
2 bars and 1 à la carte restaurant
5000 m2 of relaxation areas, with pool and garden area
Fitness centre
Temporary art exhibition room
More information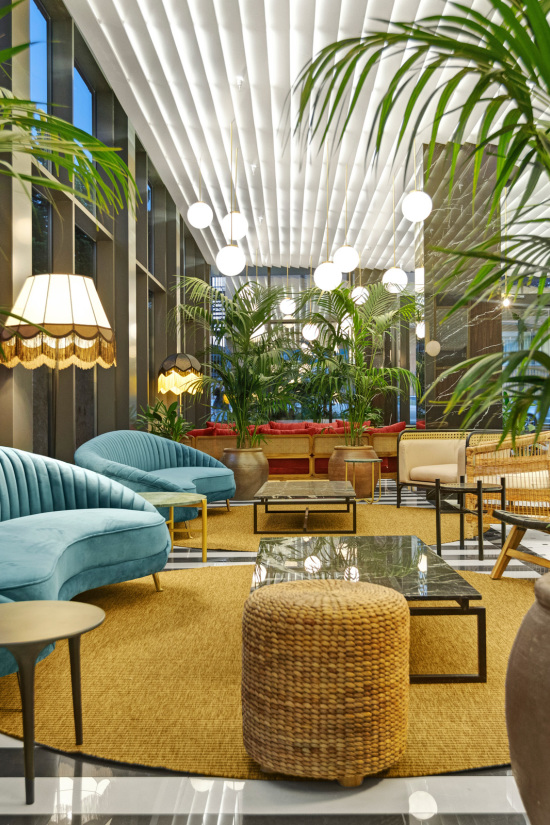 A 5-STAR OASIS IN PLAYA DE PALMA
Contemporary luxury and comfort
As soon as you walk through the front doors of Aubamar, you will be part of the new luxury holiday experience in Playa de Palma.
The amount of natural light from the large windows that bathes the entire space as you make your way to the reception and the bold use of blue and red colours in the armchairs, will give you the sensation of walking through a typical Mallorcan interior courtyard illuminated by the light of the Mediterranean.
On the way to sample Algust's gastronomy, you will discover an incredible area that is much more casual and daring, featuring huge day beds hanging from enormous coral-coloured metal cages. A surprise effect that elevates the interior design and will not leave you indifferent to enjoy a relaxing moment reading a good book or enjoying the music inside.
And outside, around the three swimming pools and the solarium, you will be able to cross the Mediterranean Arrels garden, which will be part of the common thread of all the interior vegetation, with large-leaved plants, many of them typical tropical, which will accompany you throughout your experience at Aubamar.
Live the design
CORNERS DESIGNED FOR YOU
Within the walls of the hotel you will discover the warmth of the colonial style together with the freshness of the Mediterranean style in the same space. At Aubamar Suites & Spa you will be able to enjoy a truly luxurious holiday stay, where style and design are in harmony with comfort.
Wood, bamboo, marble or braided fibres are the raw materials that take centre stage in the hotel's different spaces, where geometric patterns in black and white, velvety sofas with rounded edges and low tables that make it easy to move around, but also to wait.
In Aubamar you will walk through rooms with a great personality, where the large windows give prominence to natural light, and where the different textures and the play of mirrors turn the hotel into a real opportunity to experience luxury and design.
SPACES
Much more to discover
Arrels

Arrels is our Mediterranean coastal pine forest garden. A natural space of 1800 m2 with autochthonous species typical of scrubland and coastal pine forest areas. An authentic Mediterranean forest that becomes a spectacle in spring, the main flowering season, but which is also a marvel to explore in summer and winter.

High Tech

Elegant on the outside and technology on the inside. A successful fusion offering cutting-edge technology in all rooms. You will be able to enjoy your own audiovisual content from the Smart TV with Chrome Cast connection and many more technological innovations during your stay at Aubamar.

Art in Season

Art and design are essential elements for our hotel. This is the origin of Auba Art: a space dedicated to art, a special private gallery that offers temporary exhibitions and hosts works by different artists with the aim of promoting the talent of Mallorca. Discover it.

ECO Mobility

If you come in a private vehicle, you will find an underground car park at your disposal. We also have charging points for electric cars and a 100% electric car rental service so that you can enjoy the island and help maintain its beauty and the quality of the Mediterranean breeze.
DESTINATION
Playa de Palma
One of the main attractions of Aubamar is its unbeatable location. Just 300 metres from Playa de Palma, a kilometre-long coastline of white sand and crystal-clear water that runs along the bay and has a splendid promenade offering a wide range of leisure activities, gastronomy, shops and clubs where you can enjoy the best company.
In addition, its gentle waves and shallow waters make this natural space an idyllic place in which to enjoy the beach and nature just a few kilometres from the city.
Disconnect and reconnect with yourself, dream with your eyes open, and relax enjoying everything that surrounds you at that moment: the Mediterranean air, the sunset, or a wonderful starry sky.